Deva Magician Master Class
The Cardinal can deal considerable spike damage, stack de-buffs and deal damage to multiple targets with its collection of attack spells. Additionally, the Cardinal has upgraded Blessings and can be a dependable healer within a party.
Given the distribution of skills a Cardinal must decide which aspects of the Bishop should be upgraded and which can be left behind. Due to the nature of the basic healing skill (higher levels do not greatly improve HP gained) the healing skills are often the ones left unchanged.
The most popular build is the DD Cardinal at 2/3/0 talent point distribution which wields Mighty Energy Beat (upgrade of energy beat), Arctic Blast (upgrade of cold bolt, stacks 3 times to a max -90% move speed) and Rainbow Field (AOE spell damages up to 7 targets). This configuration also includes max level
Blessing of Intelligence lvl 16
Blessing of Strength lvl 16
Snow Slide lvl 11
Shining Armor lvl 20
Shining Weapon lvl 20
Along with some new passives, this build is also arguably the most versatile since heal potency is based primarily on available m.atk.
Another build is the Heal-focused Cardinal which includes Mass Restoration (AOE heal), Seraphic Remedy (small range 'bouncing' heal) and Magical Requisition (DB spell that steals m.atk). These skills all come from the third tree which the DD Cardinal does not unlock, as such this build has to choose between spamable damage spells and de-buff spells as well as devided buffs (see skill tree below for details). The use of this build includes max level
Rapid Healing lvl 30
Restoration lvl 20
Blessing of Wisdom lvl 16
Blessing of Vitality lvl 16
The talent point skill found in the third tree is Celestial Protection which is a 5 second immortality AOE that does not block damage over time de-buffs, often this skill is ignored to use the talent points towards others.
When Master Class was released one of the Cardinal's talent point skills - Refreshing Triumph, was incorrectly using job points, this may have been due to the fact it is a passive. After this was changed a Cardinal with all TP quests complete could reset their skills at the Job Supporter and be awarded a total of 6 talent points. This is responsible for things like Cardinal buff slaves with all 6 buffs max level and DD Cardinal's with half level third tree skills but it is not possible for a new Cardinal to achieve this, the max number of talent points you can receive is 5.
Highlights
Edit
These are heavily effected by the type of talent point distribution chosen
Strengths
Edit
Retains status as competent DD and Healer
Improved Blessings and Shinings available
Can achieve very high damage output
Weaknesses
Edit
Low defence means survivability when taking agro is poor
MP management problems
Notable Skills
Edit
Master Energy Beat, valuable spam spell
Arctic Blast, favourite de-buff for taking on bosses
Rainbow Field requires manual targeting, this sometimes results in the character moving rather than casting the skill.
Recommended Builds
Edit
[List of suggested builds. Do not overwrite others' but add your own.]
There are a few things to note first, a 2h Master Class staff can be cheaper because of the cost to cube a single item +20 compared to the cost of a 1h Master Class staff and Master Class Magewall together. The 2h staff has a higher mp regen bonus but the 1h staff and magewall together have higher potential m.atk. Since we have yet to receive D3 MC gear the weapon needs to be around +15 to have higher stats than D3 weapons from the temple dungeons, it is not advised to spend any money on D1 MC gear.
DD Cardinal
The it stats here are crit ratio and crit power
Feral 1h Master Class staff, Master Class Magewall and armor pieces

If you cant afford this;
Primal armor pieces and a Ruthless T1/T2 2h Staff OR any D2 2h Master Class staff can be used but note the resale value of certain ethereal/dura types.
6 Polished Annihilation stones - 7.7 crit power and 2.4% crit rate each is a basic addition, the other half of your stones is really up to your own preference but Colossal Decimation stones - 4.6 crit power each can also be considered.
Heal-Focused Cardinal
The it stats here are more varied between cast speed and m.atk
Intense 1h Master Class staff, Master Class Magewall and armor pieces

If you cant afford this;
Frantic armor pieces and a Ghostly or Decisive 1h Master Class staff and Master Class Magewall OR 2h Master Class staff can be used and in the case of 2h staff especially they resell decently and work well as heal pet gear.
6 Polished Wizard stones - 33 int each and 6 Polished Pinpoint - 18.2 acc/m.acc and 40.5 m.atk each is going to give you the highest stone boost to your heal but you should also consider whether or not to use wis stones, cast speed stones or vit stones instead. This depends on your play style, you get the most m.atk from your weapon so you can even forgo this setup if you feel like it.
Belt Slots
Edit
Note that you cannot stack cards for a single stat in excess of +30%

Boss cards are less important stat-wise, pick one with an effect that works well with what youre doing. Below are the cards with effects that may benefit your play style, organized by activation type. Irrelevant stats (dex, P.atk, etc) are not listed.
Healing
Blue Pixie: Most heal skills, only pet with a resurrection skill, stage 5 considered best heal pet in the game. MP recovery unity
Equipment
Edit
You need 9 Talent Points at least to open all skill. At level 150 the maximum number of talent points you can get is 5 with a maximum of 6 points possible at level 160 and 7 points possible at level 170.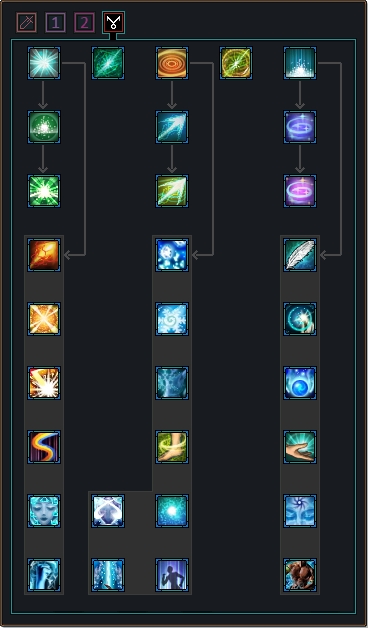 Path 1
TP Skill: Inner Light
| | | |
| --- | --- | --- |
| Level | Mattck | M. Pierce |
| 1 | +2,5% | +5% |
| 2 | +5% | +10% |
TP Skill: Refreshing Triumph (requires LVL 2 Inner Light); Level 1 Only
When you or a party member kill an enemy within level range chance to buff yourself for 10 seconds, recovering 40 mp for every 2 seconds.
Sustained Restoration
Increases Refreshing Triumph effect.
Mighty Energy Beat
Basic
Level +1
Card+1
A stronger version of Energy beat. Shares Cool Down with Energy Beat.
MP-use
48
+24
?

| | |
| --- | --- |
| Cast Time | 1,5 sec |
| Cool Down | 0,5 sec |

Damage= Mattck*
3,01
+0,32
?
Divine Nova

| | | | |
| --- | --- | --- | --- |
| Cost per use: | MP 506 | MP +51 | MP -50 |
| chance of stun | ?% | +?% | +?% |
| | 258 | +68 | +70 |
| | 230% | +10% | +10% |

3s

10min

2s

 
Rainbow Field
Basic
Level +1
Card+1
An AOE with chosable area. Attacks up to 7 times. 4 meters range.
MP-use
420
+40
?

| | |
| --- | --- |
| Cast Time | instant |
| Cool Down | 5 sec |

Damage= Mattck*
1,21
+0,21
?
Path 2 Vortex Magic- Increases the damage of Arctic Blast, Frost Spear, Frozen Snare.
Artic Blast- Sends a icy bolt (Similar to Cold Bolt but much stronger Version) Has 6 sec cooldown with no casting time.
Arctic Blast Training - Decreases the cooldown of Artic blast
Snowslide- Drastically reduces the cooldown of snowslide.Level 11 max
Shining Weapon - Increases damage of basic attacks and skills used.
Shining Armor- Decreases a percentage of damage taken.

Path 3- If you want to have a good healing spells like priest choose this path. Mass Restoration- AoE Restoration.
Guardian Force- All your nearby party members their pets and the caster with its pet become invulnerable to any kind of damage except in DoT damage for 5 seconds.
???-Decreases the cooldown of the skill in the top.
Rapid Healing- Level 30 max
restoration- Level 20 max
Seraphic Remedy- Heals your target party member or the caster or pet and the heal bounces 7 times can heal same person many times until the spell did not reach the bounce limit (7) yet. If cast on yourself no party members nearby and only your pet is near you can heal you up to 4 times and your pet 3 times. This healing spell has low cooldown and fast casting time so its good for soloing and similar to Priest Mass Healing but can heal 7 party members only.
Magical Requisition - 15 sec, Lowers targets M-attack and increases your own for the duration. Cooldown 1min
Blessing Of Wisdom - Increases wisdom and Mag-defense.
Blessing of Vitality - Increases Vitality and P-defense

Incomplete**(Will add more in the coming month)
Job level bonus stats
Edit
edit data
JLv
Str
Vit
Agi
Int
Wis
Dex
Luck
1
 ?
 ?
 ?
 ?
 ?
 ?
 ?
2
1
1
1
1
1
1
0
3
1
1
1
1
1
1
0
4
0
0
0
1
1
0
1
5
1
1
1
1
1
1
0
6
0
0
0
0
0
0
0
7
0
0
0
0
0
0
0
8
1
1
1
1
1
1
0
9
0
0
0
1
1
0
0
10
1
1
1
1
1
1
1
11
0
0
0
1
1
0
0
12
1
1
1
1
1
1
0
13
0
0
0
0
0
0
0
14
1
1
1
1
1
1
0
15
0
0
0
1
1
0
1
16
1
1
1
1
1
1
0
17
0
0
0
1
1
0
0
18
1
1
1
1
1
1
0
19
0
0
0
0
0
0
0
20
1
1
1
1
1
1
1
21
1
1
1
2
2
1
0
22
1
1
1
2
2
1
0
23
2
1
1
2
2
1
1
24
1
1
1
2
2
1
0
25
1
1
1
2
2
1
1
26
1
2
2
3
2
2
0
27
1
1
1
2
3
1
1
28
2
1
1
2
2
1
0
29
1
1
1
3
2
2
1
30
1
2
1
3
2
1
0
31
32
33
34
35
36
37
38
39
40
41
42
43
44
45
46
47
48
49
50
end